How to Create a Menu
ChefMart Team
[vc_row][vc_column][vc_column_text]
In the restaurant industry, having a well-designed menu that is carefully laid out and planned is a must. Your menu is the main tool that drives sales to your business, and engineering your menu can help bring in more sales and boost your profits. Additionally, studies have shown that a well-designed menu can boost your profits by 10 to 15%. To help ensure that you create the best menu possible, we've created this comprehensive guide that breaks down the process and gives you some helpful restaurant menu ideas.
You can also jump to specific parts of the menu design process below:
How to Create a Menu
Designing a menu can seem intimidating, but the process can be boiled down to a few simple steps:
Finalize your list of menu items and place it in a spreadsheet.
Split your list into sections, such as breakfast, lunch, dinner, entrees, appetizers, desserts, etc.
Design the layout of your menu. Consider how your customers are going to use your menu by studying menu engineering.
Use a free menu maker or menu maker software to design your menu.
Save your menu as a PDF and print it out. Make sure that you have enough menus for your customers.
Place your menus in menu covers or on menu boards.
Although these steps lay out the basic process of creating a menu, you should put a lot of thought and consideration into your menu's design. Below, we lay out some best practices for designing a menu to make them easy for your customers to use and to help facilitate sales.
How to Lay Out Your Menu
When customers look at your menu, their eyes are drawn to specific places on it, so this is where you want to put your most popular menu items and items with the highest profit margins, like entrees and appetizers. The three spots on the menu that customers look at first is called the Golden Triangle by menu engineers and psychologists.
The Golden Triangle
The Golden Triangle is a term that menu engineers use to refer to the three areas on your menu that most customers tend to look at first. There are three points on the triangle:
Middle. Most customers look at the middle of your menu first. This is a great location to put your specials or limited menu items.
Top Right. The second place your eyes tend to go is the top right corner of the page. This is where many restaurateurs place their entrees or main course items.
Top Left. From the top right corner, most customers tend to look at the top left corner. This is a common location for appetizers, which, combined with entrees, can boost your profits.
Designing the Layout of Your Menu
You want to dedicate the highest rent areas of your menu to your most popular items and the dishes that have the highest profit margin. Once you've decided which sections you want to place in the Golden Triangle, you can figure out how to lay out the rest of your menu items. One of the next things you need to decide is how many sections you want to have in your menu.
Menu Sections
When creating the different sections that will go on your menu, you need to consider how many menu items you have and how they can be grouped up or divided. For example, can you split up your main course section into entrees and sandwiches? Or can you break it down further into beef, chicken, pork, and seafood sections? When it comes to creating sections, it's best to be as specific as possible, so your customers can easily find something that appeals to them.
Creating menu sections for specific ingredients, such as beef, pork, or chicken, is especially essential in ethnic restaurants that have menu items that customers may not be familiar with.
Tips for Creating a Menu Layout
Here are a few other restaurant menu ideas you should consider when choosing your layout:
Create a separate menu for your desserts. Studies have shown that if your desserts are on the main menu, customers are less likely to order an appetizer. Plus, if you have a separate menu, you can leave it on your tables for customers to browse throughout their meal, and give them time to think about which dessert option they want to try.
Restaurants that have an extensive selection of beverages may also want to make a separate beverage menu so they don't take up too much space. You may want to include popular non-alcoholic beverages on your main menu, though, such as soft drinks, iced tea, or lemonade.
If your establishment has a large selection of vegetarian, vegan, or gluten-free options, it's a good idea to add dedicated sections for those items. Creating a new section makes it easy for customers with alternative diets to find menu items that they can eat.
You can draw attention to specific menu items, such as limited-time-only specials or seasonal items, by placing a box or border around them. This helps your specials stand out from your other items and draws your customers' eyes to them. You can also place them in the center of your page to draw more attention to them.
How Many Pages Should Your Menu Be?
The number of pages in your menu is going to depend most importantly on how many menu items you have. But, when it comes to menus, less is more. If your menu has too many pages, it can be overwhelming for your customers.
The most common type of menu has two pages, and it provides you plenty of room to list your menu items without providing too much information to be overwhelming. If your restaurant is modern or has a contemporary aesthetic, rather than using multiple pages, you may opt for a larger page or a unique design.
Choosing a Style for Your Menu
It's important that you choose a style that reflects your business's concept and appeals to your customers. Here are some common styles that can give you some direction when you're trying to choose a style for your menu:
Upscale: Upscale menus are typically short, with only a few items on the page. There are very few or no images on the page and there is usually a detailed and stylish font used.
Child-Friendly: Menus at family-friendly restaurants typically have lots of pictures and bright colors that can capture the child's interest. You may also want to use a large font that is very easily readable and scannable.
Modern: Menus at modern restaurants are broad, and the design will depend mostly on your business's theme. But, many modern establishments have menus that are sleek, with interesting designs, custom images, and stylish fonts.
Nostalgic: Businesses that capitalize on nostalgia are becoming more popular as baby boomers are getting older and spending more time eating out than cooking for themselves. Their menus typically have a rustic and old-fashioned style, as well as multiple images on each page. Additionally, if you're expecting your establishment will have an older customer base, you may want to make your font larger, so it's easy to read.
How to Style Your Menu
There are many specific design elements that go into styling your menu, such as font, images, and colors, and they allow you to give your menu a personality and character. Similar to your menu's layout, your menu's design can help persuade customers to buy specific high-value items. Here are some tips on how to choose images, fonts, and colors for your menu, as well as how to write descriptions for your dishes.
How to Describe Your Food
Writing appetizing menu descriptions can persuade your customers to try something new, provide information for guests with food allergies or alternative diets, and help customers find a dish that appeals to them. Plus, if you use unique names for your dishes or you serve a lot of ethnic foods, writing menu descriptions can help your customers understand what the dish will be.
You should use your descriptions to not only list the ingredients in the dish, but to describe the taste and texture of the food as well. For example, instead of just listing all of the ingredients in a salad, use adjectives to make it sound more appetizing, like this: "Rachel's salad contains leafy arugula, crisp romaine lettuce, creamy goat cheese, and candied walnuts, all coated with a light and delicious strawberry vinaigrette."
How to Use Images in Your Menu
Adding images to your menu can help your customers know what to expect by giving them an idea of what your dishes look like. But, too many images on your menu has a negative connotation, because many customers connote lots of images on the menu with low-cost and low-quality restaurants. Here are a few helpful tips so you can get the most out of the images on your menu:
You want to use the highest quality pictures available. If your images are grainy or out of focus, it's going to give your customers a bad impression of your establishment.
Use around no more than two images on one page, unless you're a family-friendly establishment.
Use images of your most popular or high-value items. Using those images will pique your customers' interest, making them more likely to order that dish.
If you have multiple locations or you own a franchise, it may be worthwhile to pay a professional food photographer to take staged images of your food.
If you're updating your menu, you can check Instagram and see if any customers have posted pictures of your food online that you can use. But if you're going to use images from Instagram or social media, be sure to contact the owner and ask for their permission first.
Choosing a Color Scheme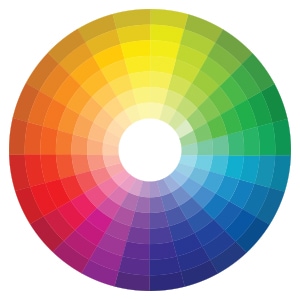 The colors that you use on your menu say a lot about your restaurant and your brand, so you should choose them carefully. Additionally, the colors you choose can affect your guests' appetites.
For example, bright colors like red, yellow, and orange can increase your customers' appetites and make them excited for your food. On the other hand, though, colors like blue and purple can make your customers less hungry.
When choosing a color scheme for your menu, you also want to make sure that your colors complement each other and that you have a consistent theme. Additionally, your color scheme should also match your business's brand. So, you wouldn't want to have an electric blue menu at your whiskey bar or a neutral brown menu at a child-friendly restaurant.
Menu Font and Typography
The font that you use is often overlooked when it comes to designing your menu, but a well-thought-out font can help you facilitate sales. Here are a few tips for choosing the best font for your menu:
Make your menu items a larger size than your prices. If your prices are too prominently displayed, customers will scan for the cheapest item instead of what appeals to them the most.
You can use uppercase and bolded letters for your item names, but use lowercase and regular styling when describing the dish.
Remove the dollar signs from your menu. The dollar sign has a negative connotation in customers' minds and it makes them less likely to make large purchases.
If your main demographic is older or very young, you want to increase your font size so it's easy to read.
Printing and Displaying Your Menu
Once you're finished designing your menu, you're ready to print and insert your menus into your menu covers.
Menu Sizing
Before you can print your menus, you need to decide what size your menus are going to be. When choosing a size for your menus, consider the layout you've chosen as well as the size of your font and the number of items on your menu.
Here are some common sizes that restaurant owners use for their menus:
Lunch Menu: 8.5″x11″
Dinner Menu: 8.5″x11″, 8.5″x14″, or 11″x17″
Drink or Dessert Menu: 4.25″x11″, 4.25″x14″, or 5.5″x8.5″
You can also use table tents instead of traditional menus for displaying your dessert or drink options.
Printing Your Menus
You should print enough menus so every customer can browse at their own pace. Here is a helpful guide that shows you how many menus your restaurant should print:
| | | |
| --- | --- | --- |
| Menu Type | Number Per Person / Table | Number Per Restaurant |
| Breakfast Menu | 1 Per Person | 75% of Your Seating Capacity |
| Lunch Menu | 1 Per Person | 75% of Your Seating Capacity |
| Dinner Menu | 1 Per Person | 75% of Your Seating Capacity |
| Dessert Menu | 1-2 Per Table | 50% of Seating Capacity |
| Wine List | 1 Per Table | 1-10 Menus |
| Check Presenter | 1 Per Table | 1 for Each Table + 10% |
Miscellaneous Menu Design Tips
By now, your menu should be nearly complete. Here are some final restaurant menu ideas that you should be sure to include on your menu:
How to Make a Menu Infographic
This infographic breaks down the six steps you need to follow to make a menu. For more information and tips on creating your menu, keep reading.

Your restaurant's menu says a lot about your business and your food. A plain and uninspired menu is unlikely to facilitate many sales, but a stylized and well-thought-out menu is more exciting for your guests and more likely to convert to sales. As a result, when designing a new menu for your restaurant or updating your existing menu with a new style or seasonal items, keep these restaurant menu ideas in mind.
[/vc_column_text][/vc_column][/vc_row]