Forecasting Sales and Break-Even Analysis
ChefMart Team
Your sales forecast sets the standards for your restaurant's expenses, profits, and growth. If you're unable to provide a well-thought-out forecast of your projected revenue of the first three years of operation, few investors are going to put any money into your business. Plus, calculating your financial projections helps you form realistic staffing and operational plans for your business. While creating a sales forecast and break-even analysis can sound difficult, with research and educated guessing, it can be simple and painless.
What Is Sales Forecasting?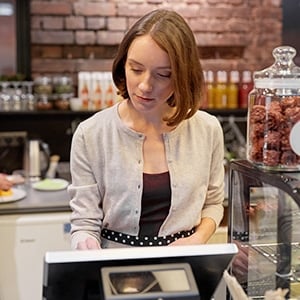 Sales forecasting is a process where businesses estimate their future sales based on historical sales data, economic trends, or market analysis. Sales forecasting is important because it allows your business to make informed decisions and predict performance, which is important for potential investors.
If you had a previous business, you can use sales data from the previous establishment to make your new sales forecast, but new restaurants will have to conduct market analysis and competitor research and make an estimate. You can create sales forecasting on a weekly, monthly, quarterly, or annual basis. But, when you're first starting a restaurant, you will want to forecast your sales for the first three years for any potential investors.
Sales Forecasting Methodology
In order to project your sales for the first three years, you have to estimate the amount of traffic your business will receive in a year, then determine your unit sales, and finally multiply them by the prices you will charge. This will equal your restaurant's overall revenue.
Next, you have to subtract your restaurant's overhead costs, such as rent and utilities, and any ongoing costs from the overall revenue. If these projections leave you in the negatives, you need to reconsider your business's expenses and determine if you're overspending on supplies, undercharging for your food, or picking a location with rent that's too expensive.
Tips for Creating a Sales Forecast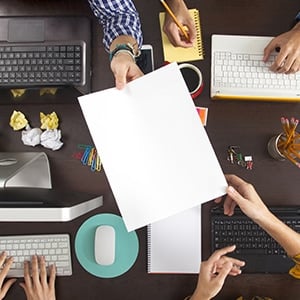 Here are some detailed sales forecasting techniques:
Estimate your restaurant's monthly unit sales. Write down how many units you plan to sell per month. When breaking this down, be as specific as possible and include how many units of each item on your menu you think you will sell.
Make predictions for new products. If you don't have sales data from a previous restaurant or business, you'll need to estimate your sales. You can do this by making educated guesses based on previous experience working in a restaurant or do research on competitors in your area.
Consider outside factors. There are many factors to consider when forecasting your sales, especially in the restaurant industry. For example, you can expect that times around the holidays will be busier than normal. And consider your location. If you're near a college campus, you can expect that sales will decrease during the summer and over winter break.
Project your prices. Once you've learned to price your menu items, you can project your prices. This involves multiplying the price of a dish by the number of units sold, and then doing this calculation for every dish on your menu. Then, adding all of these numbers together, you find your overall revenue.
Break-Even Analysis
After you've established your business's overall revenue and sales forecasting, you can move on to a break-even analysis, which is an important step in opening a new restaurant.
What Is a Break-Even Analysis
A break-even analysis is a technique used in business that compares fixed and variable costs with revenue to determine how many products you need to sell to make a profit. This step will give you an idea of whether your business will be profitable, or whether you need to reconsider your options and look to find where you can cut costs. Additionally, a break-even analysis helps keep spending in check, and it shows investors that you have a solid game plan.
How to Perform a Break-Even Analysis
To perform a break-even analysis, you will need the following information:
Fixed costs per month: These fixed costs are bills that don't fluctuate from month to month. Fixed costs are things like rent, utilities, and payroll.
Average costs per unit: The average cost per unit is the cost of ingredients used in a particular menu item. Once you have these numbers for each of your menu items, add them all together and divide by the number of menu items you offer to find your average cost per unit.
Average price per unit: You should already know your average price per unit from when you created pricing for your menu.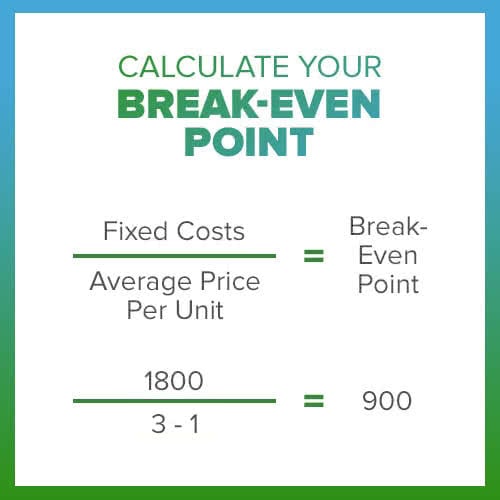 Once you find these numbers, you can use a formula to determine your break-even point on a monthly basis. To make this easier to understand, let's use an example. Let's say that your fixed costs are $1800 a month, you have an average cost per unit of $1, and your average price per unit is $3. To find your break-even point, divide your fixed costs ($1800) by your average cost per unit ($1) subtracted from your price per unit ($3). In this example, you would end up with 900, which is the number of units you need to sell to make a profit. If you sell less than 900 units, your restaurant would be operating at a loss, and if you sell more than 900 you'd be making a profit.
To the right, you can find the formula you need to calculate your break-even point as well as the formula written out using the example above.
Sales forecasting and break-even analysis are important steps when starting a new restaurant because they give you an idea of if you're on the right track or if you need to adjust your numbers. Having a strong break-even analysis and sales forecasting can also persuade potential investors to buy into your restaurant. And, be sure to continue to forecast your sales even after your business has opened, so you have an accurate measure of your business's growth and it's profitability.